One of the great gifts of Thich Nhat Hanh is his insistence that the true purpose of Buddhism is not to sit on a cushion in some remote monastery but to use the deep insights of mindfulness to change the world for the better.
The term "Engaged Buddhism" was coined by Thich Nhat Hanh, great peace activist, during the Vietnam war, as a response to social and political problems.
In this interview, Sr. Luc Nghiem shares her experience of putting Engaged Buddhism into practice.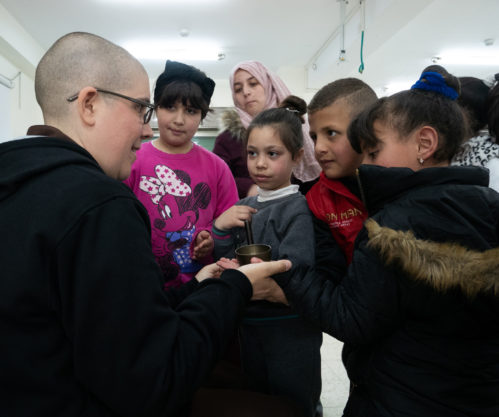 Q: Respect, non-violence and compassion are the recurring themes of Engaged Buddhism. Was it commitment to these principles that motivated you to become a nun in the Plum Village tradition?
Probably, but I didn't know it at that time. Plum Village is the direct result of how our Teacher has transformed the suffering of the Vietnam war into a beautiful lotus flower, the Sangha of Plum Village. There were many reasons for me to be a nun; one of them was that I had discovered the path that leads to True Happiness – the fourth Noble Truth! When I arrived for the first time in Lower Hamlet, my heart was so moved to be in touch with the grace, the joy, the love and the peace of this environment. I felt secure and I knew exactly that this is the place I wanted to take refuge in.
Q: Nowadays, why is Engaged Buddhism important for you, and how do you practise it?
Our Teacher always reminds us that Buddhism is not about praying, chanting and sitting in zazen in the meditation hall, but to bring all the fruit of our practices – for instance, peace, love, and a non-dualistic view – into our daily life and to share it with people and all beings.
We need both. We need to have time to develop stillness – through formal practices like sitting meditation and walking meditation – in order to be "on the field" with enough stability, joy and wisdom. Our non-fear is what we can offer to the world as a practitioner, and this is something that needs to be cultivated at all times. We are like a gardener taking care of the flowers. As everything else in this world, our stability, love, joy and peace are impermanent and if we don't nourish them in our daily life, these energies will perish. This is one aspect of Engaged Buddhism. For example, when we went to Israel and Palestine, places that are dear to my heart, many things there trigger division and anger. But with enough clarity and stability in our mind, we didn't allow our love, peace and joy to be shaken by external events.
Today in both Israel and Palestine, there are Sanghas for young people. Young people are so thirsty to be in touch with what brings a new vision (the reality of interbeing) and a new way of life (the Five Mindfulness Trainings), that I try to be a support for them and to sustain their practice. A small group of us, both monastics and lay friends, organize a "Middle East Dharma Tour" every year. We also create opportunities for young Palestinians and Israelis to come to Plum Village – just as Thay did in 2003, when Plum Village offered a retreat for Palestinians and Israelis. We are Thay's continuation, walking in his footsteps. Walking peacefully with love in our heart in the streets of Ramallah, Hebron or Jerusalem is an act of spiritual resistance! We resist the collective energy of violence, discrimination and fear.
Q: What is the role of Engaged Buddhism in the context of the climate emergency we are facing?
The other day we watched a DVD of Thay from 1999, where Thay asked the whole Sangha to stop using plastic bags. Thay has always included in his teaching the element of being respectful and grateful to Mother Earth.
When we are in touch with the wonders of life, we can't at the same time destroy them! We will naturally try to protect the treasures and the beauty of life and make decisions that go along with our heart-connection. This means that we sometimes have to put aside our preferences, our likes and dislikes, in terms of food taste, or material comfort, or clothing. When we know the suffering that is behind what and how we consume, then it is easy to make the "right choice", the choice that creates the least suffering possible and possibly no suffering at all! This implies simplifying our lifestyle.
This is what we are practicing here in Plum Village: sharing our homes, food, cars and activities. Of course, we can still do better and the community is always trying to look at how we can do more to protect and nourish Mother Earth. The spiritual food of love and understanding, joy and peace is something that nourishes all of us including Mother Earth, that is for sure! We shouldn't forget this aspect and should avoid being caught into the "doing". Again, we need both: stillness and action.
A few weeks ago, Plum Village changed our electricity provider to a "green" producer. That is great news. We also grow local vegetables, herbal medicine and tea on our Happy Farms, thanks to the hard and loving work of our lay volunteers. Many other "small" details in our daily life, from each one of us here in Plum Village, contributes to the big picture.
A flower blooming right now is a francophone Earth Holder Community, Gardiens de la Terre, with monastic and lay members. This will bring Plum Village practices in a concrete way into climate circles and activist groups in France and across Europe, to support and be a refuge for those who need it.
Q: Do you have any final advice about how we can best practise Engaged Buddhism?
There are so many areas in the world that need healing, love, peace and forgiveness that for me, as practitioners, we need to be careful not to be lost in "doing". We should always remember that our peace and joy are the real gifts. If we lose them, our actions won't have the same taste or the same fragrance.