Sangha del Maresme in the Time of Coronavirus – A Recent Update from Pep Rafols
The current crisis has been a deeply rewarding life experience, both on a personal level (where I face the possibility of getting sick and/or dying); in the family environment (my family takes care of three older grandmothers); in the social sphere (where we show affection and solidarity with neighbors, friends, and coworkers); and in the professional sphere (I am still going to work, and there I am supporting people who have been quarantined after being directly exposed to the virus).
A few days ago I sent my sangha a video in which I directly invited them to share the Dharma. I asked each member to record their sharing at home, but first to meditate, then to prepare the background or stage with affection, and finally to speak in confidence as if the sangha were in front of them. I also made an audio inviting them to record their voice explaining life experiences and how they are managing living in confinement. I invited them to sing, dance, talk and dream. We must dare to join the global conversation, I suggested, and express our own experiences, fears, and joys.
Thus, the sangha is now connected, sharing videos, teachings, songs, and the loving presence of each other online. In addition, we are participating online with the larger Spanish sangha in its Sunday sessions.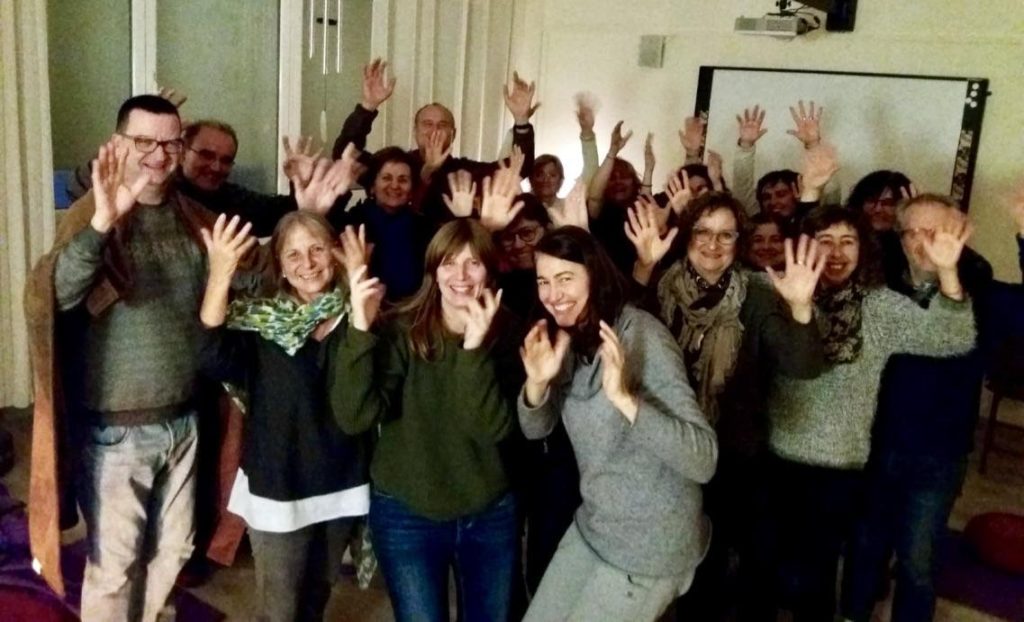 About the Sangha Maresme
The Sangha Maresme was born 14 years ago. Two of its founders, Andreu Majó and Jesus Pruna, first connected with Plum Village in the early 1990s and regularly attended its summer retreats. In 2005 Josep Rafols (known to his friends and fellow sangha members as "Pep") attended for the first time, and, in 2006, the three created the Sangha del Maresme (Maresme is a region of Barcelona on the coast of Catalonia, Spain). As Pep recently recounted "In 2006, we decided to try hosting a sangha for one month. Fifteen years later the sangha is thriving – proof that when a seed is ready to grow, it will happen. Sangha Maresme has a story with a happy past, a solid present, and an exciting future."
Sangha Maresme has approximately 40 members, although not all attend every week. However, as Pep noted, "Everyone feels tied to the sangha. People will come back even after years away . . ." Besides weekly meetings, the sangha hosts Days of Mindfulness several times a year, as well as more frequent workshops, not only for Sangha Maresme, but also for the many small, local sanghas of the region. Those meetings are usually conducted by Luis Del Val, a much-valued local Dharma teacher.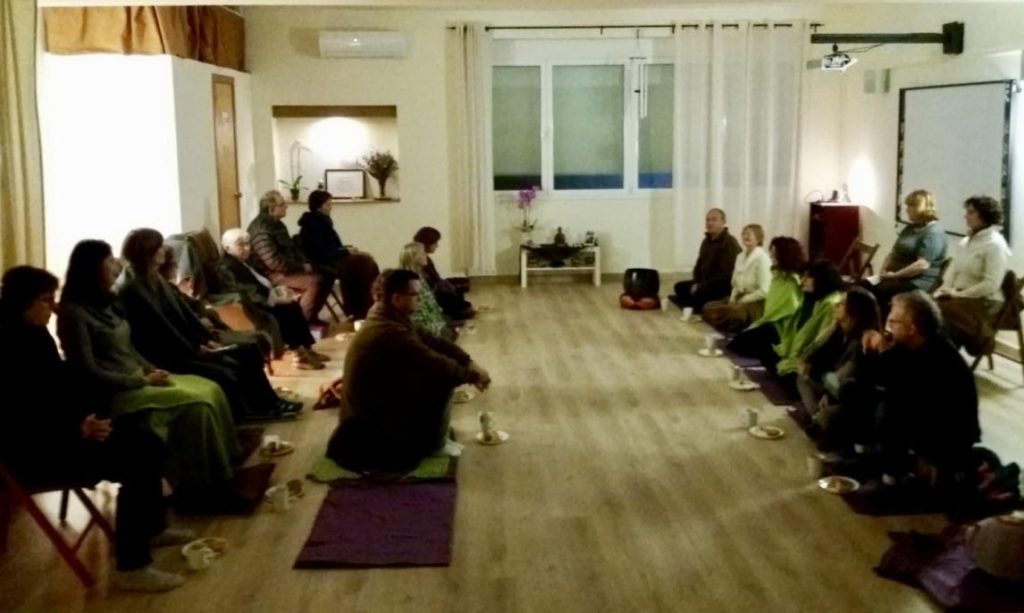 The Sangha Maresme not only maintains a room exclusively for its weekly meetings, it also has a space for meetings of the larger Buddhist community in Catalonia and is therefore always available for events involving other sanghas or practitioners in the tradition of Thich Nhat Hanh.
Above the meeting room is an apartment where monks can stay when they visit for retreats or seminars, or when they do a solo retreat.
A different facilitator conducts each weekly meeting during which the sangha pursues the traditional Plum Village practices of meditation, mindful walking, and dharma sharing, as well as listening to talks by Thich Nhat Hanh via YouTube or DVD. Beyond this, because many of the original members and facilitators of the sangha were artists, the first part of the weekly meeting often involves some kind of artistic expression: dance, music, other forms of body movement, the making of art of many different kinds. "This is how we "land" ("aterrizar" in Spanish), slow down, achieve some measure of grounding as the meeting begins," explained Clara Roset, a member of the sangha
Clara, also a member of the Order of Interbeing, described the Sangha Maresme as "a reference point in our region – a meeting point of other local sanghas to participate in workshops and Days of Mindfulness. It is very active. It always opens its doors to any proposal, and Pep is an engine for our community, always proposing, pushing and leading any event."
For example, in 2014, after almost a year of planning, members of Sangha Maresme helped the team faced with the task of organizing an extended tour of the region by Thich Nhat Hanh and 70 monastics from Plum Village. The group needed to first come together, confront their fears and the tasks before them, and realize the joy and richness of the work upon which they were about to embark. This was the seed of an effort to support new facilitators. Early this year the group brought together forty facilitators from twenty-one sanghas of the region for a special Day of Mindfulness.
The subsequent visit was hugely successful, involving visits by Thich Nhat Hanh and the monastics from Plum Village to local sanghas, Days of Mindfulness, and a Wake Up school. At the conclusion of the event, over 3,000 people joined a mindful walk through the streets of Barcelona. The Sangha Maresme is hoping to host a weekend retreat this year to replicate that original gathering of facilitators. Ultimately, the sangha aspires to become a reference centre for the study and dissemination of the teachings of Thich Nhat Hanh in Catalonia.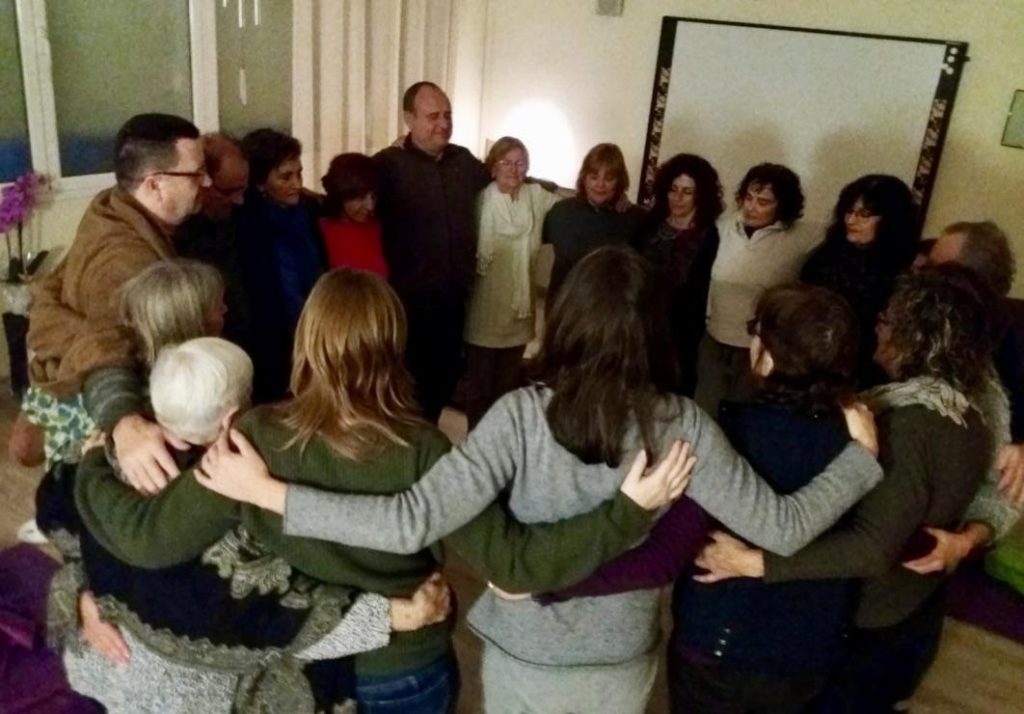 The sangha has a long tradition of refashioning its practice based both on the talents of its members and the cultural milieu in which it exists. For example, because Spanish society and culture is strongly Catholic, the sangha has incorporated, particularly around the Christmas season, Christian stories and texts as a basis for lessons in mindfulness in the spirit of Plum Village.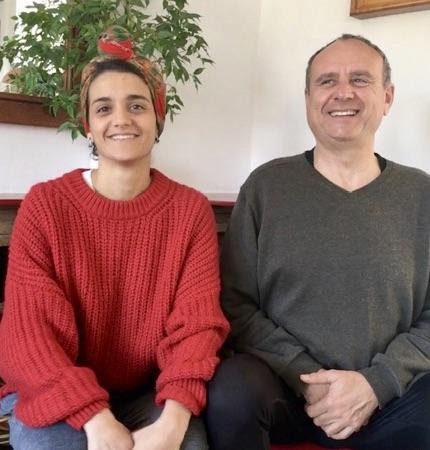 Over the years, the members of the Sangha Maresme, like the members of most families, have shared many deeply personal moments – births, marriages, deaths. In 2017, Andreu Majó, a beloved member and one of the sangha founders, passed on, and the Sangha marked his continuation with a beautiful ceremony. Like many members of the Sangha Maresme, Majó was both a Catholic and a long-time Buddhist practitioner. And, like many of the members of the sangha, he found these beliefs not contradictory, but complementary; his Catholic faith was fundamental to him, but he also found the lessons of Buddhism to be profoundly helpful in his daily life. Each spiritual home supported and enriched the other. Pep Rafols described Andreu as combining his Catholic faith with the gentleness and compassion of Thay's teachings. Pep recalled that the last words he heard from Andreu as he passed on were that he was ready to go to heaven, but that knowing he was going there did not give him peace. What truly comforted him was the understanding that he was going to transform, to continue, and to contribute to new consciousness.
In one final story, Pep shared that the Sangha Maresme is not only healthy and solid, it is growing in many ways. Rafols said that one of the most emotional experiences for him was when his daughter, Clara, joined the Sangha Maresme. He added, with some pride, that Clara is now organizing a Wake Up sangha for young people of the region.
_______________

About the Sangha Maresme
Sangha Maresme meets weekly on Thursdays from 20:00 to 21:30. Address: Sangha Maresme, Carrer de Puig 12, 08310 Argentona (Barcelona), Spain. The sangha also hosts Days of Mindfulness and in-depth workshops in Buddhist practices and teachings several times a year.
Anyone interested in learning more or joining the Sangha Maresme can contact Pep Rafols, email: peprafols@yahoo.es.