Action From The Heart was a Plum Village online retreat for activists which took place in February this year. Andrew Rock, who attended the retreat, keeps a diary of events and shares his highlights with us.
Day 1
On Day 1, Brother Phap Lai offers the first day's Dharma Talk. "What is action from the heart?" he asks, and "What is Right Action?" It is hard, when we see where industrial society's extraction, exploitation and consumption is taking us, to go against the stream, against the vested interests of some and the apathy of others. We go against the stream by facing our suffering with compassion, coming back to the clam island of our true self, and smiling at the present moment. Our joy and our pain are not separate – we hold them both. Phap Lai urges us not to "be angry at our anger, fearful of our fear, despairing at our despair," and not to leave our loneliness alone with itself. Our suffering offers us the opportunity for insight and compassion. He reminds us of the potential for well-being, and takes us on a quick tour of the Noble Eightfold Path, beginning with Right View, the view of interbeing. As activists, we won't wake people up by venting our anger, but by trying to help them understand what is happening, and above all, that all people, animals, plants, minerals and the planet are interconnected, are all one.
Day 2
Kaira Jewel Lingo leads the morning meditation, and reads from Thay's "Love Letters to Mother Earth." I realize I have never read it, and decide to remedy that very soon.
There are workshops in the afternoon. I am a panelist in the Earth Holder workshop offered by our Regional Community Builders family. There are nine of us, from England, Ireland, Peru and the American Midwest, and east and west coasts, as well as dharma teacher John Bell and Earth Holder coordinator Simona Coayla-Duba and Care Taking Council member Sara Henry. The questions we address include: What is an Earth Holding practice? How did the Earth Holder Community originate and develop within the Plum Village Community? Why is environmental justice and racial equity so central to Earth Holding? How does one create a local Earth Holding group? What are some of the obstacles, and how important is community? We also share examples of our earth holding practice in action. Alex Nunn shares a compelling story of his participation in the Extinction Rebellion 2019 five day occupation of central London, serving as a steward of well-being, bringing an energy of peace and calm even as the police move in to forcibly clear the streets and arrest the activists.
That evening, Larry Ward gives a powerful Dharma talk on the change we are in, which he says is as deep as the evolutionary change from single-cell to multi-cellular organisms. This is an opportunity, in the midst of the current breakdown, to break through the mental formations of greed, hate and ignorance, into the reality of interbeing. It is essential that our changes are grounded in spiritual practice, in the transformation of consciousness, or we will wind up replicating what we have now. Whatever doubts we feel now are an invitation to look deeper.
"Mindfulness practice is not simply sitting," he tells us. We practice calmness in order to drop down deeper, starting with the body, so that through the body we may recognize our human experience and practice with that. Meditation is the practice of deeply touching our connection to all that is, so that we become capable of planetary living. Mindfulness teaches us skills of resilience that show up in the quality of our presence. Waking up isn't going away to some better place, it's waking up to this place and everyone and everything in it, so that "the whole earth is my monastery.
Day 3
On Day 3 there is a live interview with Sister Chan Khong, who is with Thay at the monastery in Vietnam where he resides now, the monastery where he became a monk at the age of sixteen. The interview is conducted by journalist and practitioner Jo Confino, from Plum Village. Sister Chan Khong speaks of her lifetime of mindful action under Thay's spiritual guidance, beginning in Vietnam during the war there, and continuing without pause or slackening ever since, as described in her inspiring book, "Becoming True Love."
In the evening there is a panel on global ethics. Five lay practitioners each share their practice with one of the Five Mindfulness Trainings, and what they have meant in their lives. They speak freely and powerfully of how they have encountered their suffering along the path, and how they have sought and often found transformation and healing through their mindful practice with the Trainings.
Day 4
We begin the day with ceremony: Beginning Anew with Mother Earth, led by our respected elder Sister Chan Duc. Her voice is soft and gentle, yet clear and strong as she recites the beautiful Opening Gatha:
The one who bows and the one who is bowed to
Are both by nature empty.
Therefore the communication between them
is inexpressibly perfect.
Our practice center is the Net of Indra
Reflecting all Buddhas everywhere.
And with my person in front of each Buddha,
I go with my whole life for refuge.
That really says it all, does it not?
Later that morning our online dharma sharing family meets again, some twenty of us, facilitated by Phap Huy, Brother Radiance.
Although this dharma sharing group, the Ginkgo Tree Family is mostly eastern North Americans, two women retreatants join us, a little late, from the Lake Victoria region of Uganda, making unexpected landfall on our virtual shore after drifting lost in the ethernet searching for connection. Most of our sharing today is with regards to the First Training, Reverence for Life. Gillian, an organic farmer from Vermont, is troubled when she harvests a tray of buckwheat sprouts, ending their young lives. We bow to her kindness and sensitivity, and talk about the importance of gratitude and mindfulness when we take life for our own nourishment, and about Thay's teachings on interbeing, how life and death are made of one another and not separate.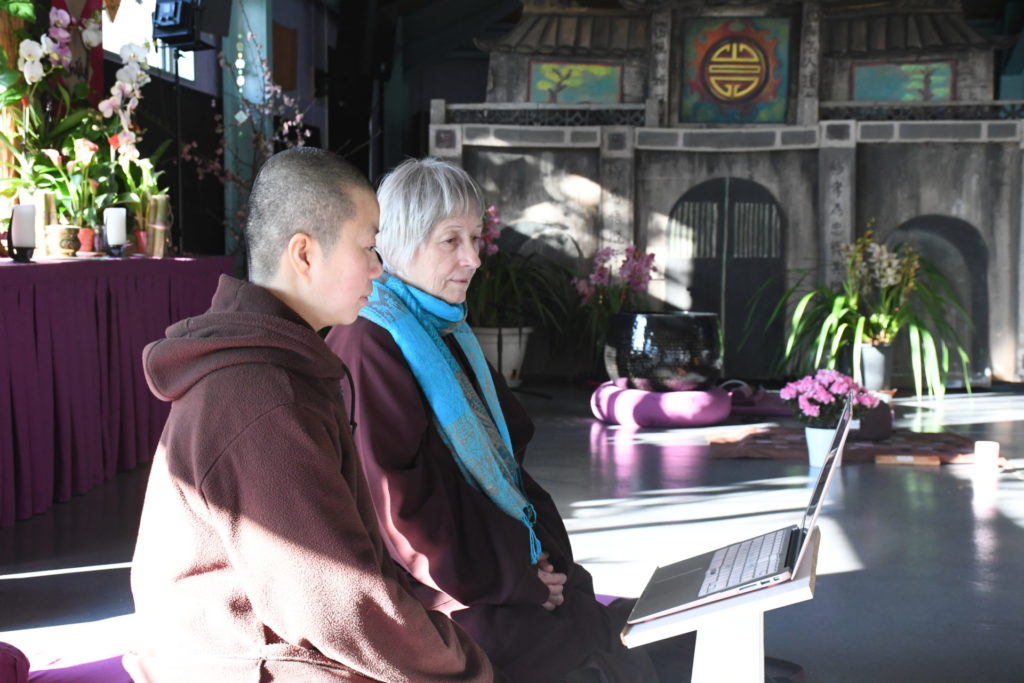 That afternoon, there is a special guest panel: Christiana Figueres and Gail Bradbrook, led by Brother Phap Linh. Christiana chaired and facilitated the UN COP 21 meeting that resulted in the Paris Climate Accords.
Gail Bradbrook is a scientist, the co-founder of Extinction Rebellion. Phap Linh calls both Gail and Christiana "prophets of the coming age," one in which we will no longer by ruled by pure reason, alienated from our bodies and our emotions. "You are both scientists," he says, "but you are not afraid to bring in emotion."
Christiana feels a paradigm shift occurring, towards the more traditionally feminine values of collective leadership, compassion and long term thinking. She is encouraged by the rise of so many young women leaders, many of them teenagers. "We need 100% of our potential and capabilities at the table; so far we've only used 50%."
Phap Linh asks about joy. "You both uplift and inspire others." Knowing what you know, how far we are from serious efforts to meet the Paris climate goals to keep global warming in check, how many species have been lost already, how do you keep that joy alive in you?
"Joy is the foundation," Gail says, 'not hope." She uses ceremony to celebrate life, she gives herself permission to enjoy life. Joy "comes from a place of innocence and humility. It's offering service," she says of her work.
Day 5
My heart is warmed and I smile as the Five Mindfulness Training transmission ceremony is conducted in the Upper Hamlet meditation hall of Plum Village, where Nancy and I were visitors one Sunday morning years ago, before Thay's stroke, when he was still freely active. After lunch that day, Thay brought an apple into the meditation hall, and he cut it into many slices and shared them with us all.
This morning there are thirteen practitioners receiving the trainings in-person in the Meditation Hall, and another hundred or more receiving them online. Perhaps 150 monastics and lay people are in the hall, and another 450 retreatants online. It is a beautiful sunny morning in Plum Village, and the meditation hall is full of light, glowing with the blond wood of the walls and ceiling, the golden and brown robes of the monks and nuns seated in their orderly rows, and the happiness of all. The familiar chants, offered by so many trained voices in harmony, are a joy. I am reminded once again that "the communication between us is inexpressibly perfect," and that "our practice center is the Net of Indra."
Yes, true happiness is not only possible, it is available right here and now, in every moment, offered so freely by the miracles of life and mindfulness, by the brilliant glory of this still beautiful planet, and by the love we all carry in our hearts.
Although we are in many different time zones and continents, meeting on different zoom links, yet somehow all has been woven into one seamless net of harmony and inspiration. It has been filled with music and chanting, guided meditations and Dharma talks, deep sharing and equally deep listening. It has celebrated and built community. It has not shied away from the enormity of the challenges that we face, the losses we have suffered, the grief, anger, hopelessness and despair that we often feel. But it has shown us a path to follow together, a path of mindfulness and joy, understanding and compassion, practice and action. Action from the heart.
I bow in gratitude.
---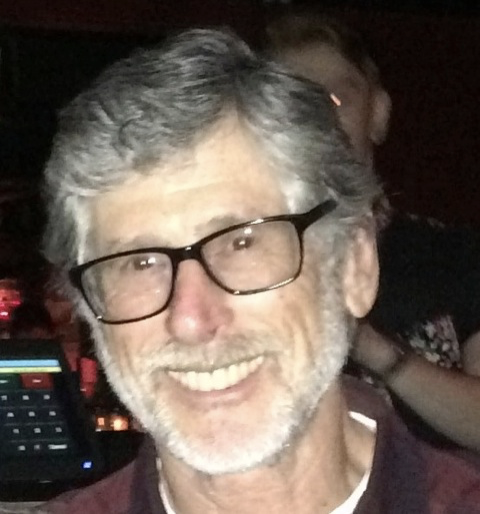 Andrew Rock received transmission of the Fourteen Mindfulness Trainings from Thay at Blue Cliff Monastery in 2011. He was given the name True Collective Healing, which beautifully expresses his deepest aspiration. Andrew is a Regional Community Builder within the Plum Village Earth Holder Community, and is also enrolled in the Socially Engaged Buddhist Training offered by Upaya Zen Center. He and his wife Nancy Natilson (Truly Living Together) live in Tampa, Florida, and Nova Scotia, Canada. They are longtime members of the Florida Community of Mindfulness.
You can find out about the latest Plum Village online retreats here.