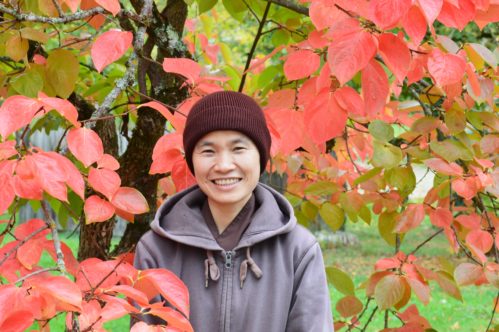 True Pure Joy
Life Story
Sister Chân Thuần Khánh was ordained as a novice nun on February 5th 2000 at Từ An Temple in Hue, Vietnam. She received full ordination as a bhikshuni on February 9th 2004 in Deer Park Monastery. She received the Lamp Transmission from Thầy to become Dharma Teacher in 2007.
She was trained as a high school teacher in Vietnam but chose to follow the spiritual path. She came to Plum Village in the year 2000. She has lived in Lower Hamlet, France; Deer Park Monastery, California; Prajna Monastery, Vietnam and Dieu Tram Nunery, Vietnam.
At home in Lower Hamlet, she finds many ways to be with her younger monastic sisters such as hiking and mentoring. She also enjoys giving classes on fine manners and Buddhist psychology for the monastic sisters as well as sutras and basic Plum Village practices for lay friends. She has a lot of interest in the Manifestation-Only teachings and her favorite practices are breathing, walking, and Touching the Earth.
Dharma Talks
Articles