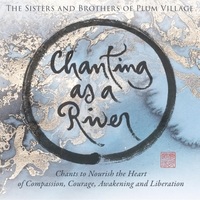 Dear Friends,
We are happy to tell you that the monks and nuns of Plum Village, together with some of our wonderful friends in the practice, have made a new album of chants. Many of our chants have been renewed with harmonies and instrumental parts.
These chants were recorded during the Autumn of 2018, by the monastic sisters and brothers of Plum Village, France, during our annual three month "rains retreat." The rains retreat is a time during which we commit to staying within the boundaries of the monastery, to nourish ourselves with the practice of meditation and to go deeper in our journey of healing and transformation. This is a tradition which has been maintained by monastic communities all over the world since the time of the Buddha.
The recordings were made in our small meditation halls, which are converted stone barns — part of the traditional French farm buildings that make up the three hamlets of Plum Village. Coming together to chant and record was for us primarily a practice of joy — a way to celebrate the simple miracle of being able to produce sound and to experience our deep interconnection through harmony.
Thich Nhat Hanh on Chanting in the Plum Village Tradition
When we chant, we chant from the heart. We are not "performing," either for a deity or for anyone else. We are not just carrying out a ritual, our mouths going through the motions while our minds are elsewhere. These words and music have been composed to serve as Dharma instruments –– to help us come back to the deepest place in ourselves, the place where we are most awake and alive. Chanting is often the most direct and immediate way to reconnect us with this place in our hearts.
Let us surrender ourselves to the awakened nature inside of us, not holding anything back. Let us release all notions of ourselves and others, our projects and agendas, and listen with our entire being, chant with our entire being, and practice with our entire being. Every time we do this, we taste a joy as sweet and clear as the purest spring water, and as boundless as the great blue sky.
In Plum Village, chants and recitations are part of everyday life and are also important for special occasions and ceremonies. They help to strengthen our practice of mindfulness, nourishing the wholesome seeds of love and understanding within us and renewing our determination to be aware and awake to the present moment. We offer these chants with the wish that they may be of benefit to you, your family, your community, and all beings.
We learned from Thay that traditionally, every chanting ceremony should contain four different types of music: the sound of compassion, the sound of the lion's roar, the sound of the rising tide, and the sound of liberation. We have done our best to create music that expresses these four qualities and we look forward to deepening and improving this new tradition of chanting in the years to come, as a community, flowing as a river.
The album is available to listen to on Youtube Music and Spotify. (Also available on other music streaming/download services.)
With gratitude and joy,
The Sisters and Brothers of Plum Village