As a symphony of greens explodes here in Plum Village, and soft rains fall on our lotus ponds, many of our elder Dharma brothers and sisters have set off to share the dharma in Europe and Asia.
It is just like in the time of the Buddha, when after the 90-day Retreat, the monastics would go out to share the teachings and practices with lay friends far and wide.
Last week seven monastics set out to offer teachings in Spain, and another seven left Plum Village for Ireland. Three sisters travelled across France to lead a retreat in the mountains of the Ardèche.
A large delegation of the most senior Dharma Teachers in the Plum Village Tradition, including many abbots and abbesses from our centres around the world, set off for Japan, the first stop on the 2015 Plum Village Asia Tour.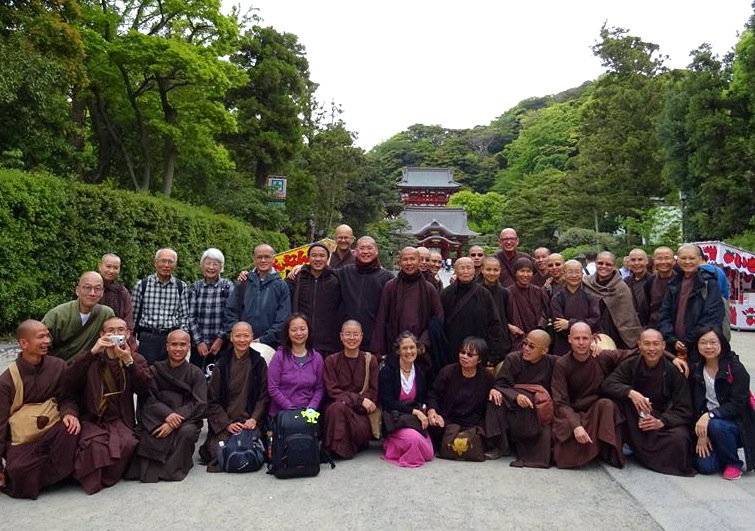 This is the sangha's first major teaching tour in Japan since Thay's 2011 trip had to be unexpectedly cancelled as a result of the Tsunami.
Highlights of the two-week Japan Tour will include a 5-day retreat for 500 people at the foot of Mt. Fuji, a flashmob sitting meditation in Tokyo, and special days of mindfulness for businesspeople, young people, healthcare professionals, and monastics from other Buddhist traditions.
Following events in Japan, the delegation will go on to lead events in Indonesia, where our brothers and sisters will soon be opening a new Plum Village Indonesia monastery. Our group of young Indonesian monastics, trained in Plum Village, will form the core of the new centre.
From Indonesia, the tour continues to Thailand, where Plum Village continues to deepen our relationship with Mahachulalongkornrajavidyalaya University (MCU), the largest Buddhist University in Asia. The community will host retreats at the beautiful Wang Ri Resort, and also at newly-built Thai Plum Village, close to Khao Yai National Park.
International practitioners are warmly invited to register for our events in Japan, Indonesia and Thailand, as all the teachings will also be given in English.
Here in Plum Village we recently hosted a youth retreat for members of Wake Up Sanghas in the UK and Ireland.
From April 17-24 around 60 young people came to deepen their mindfulness practice and nourish their brotherhood and sisterhood in the Upper Hamlet.
Plum Village is making the most of the fine weather to prepare for our joyful summer retreats. Our mindful working meditations and gentle program of practice are a wonderful opportunity to build brotherhood and sisterhood, and we are grateful for the unprecedented numbers of lay friends from around the world who are coming to practice with us, ready to roll up their sleeves and help create a beautiful environment for us all to enjoy.
This June, we look forward to hosting our first Happy Farm Retreat on the theme "Sustainability, Mindfulness and Community Living". In July, we will have a full four weeks of our International Summer Family Retreat,which is already booking up fast.
In August, the Upper Hamlet will be hosting a two-week Mindful Health and Wellness Retreat, while a large group of Plum Village monks and nuns will be in Germany leading retreats at our European Institute of Applied Buddhism.
We are deeply happy that our Teacher is home, healing and resting, and it is a privilege to continue to realise his aspiration together, and with your support.
---