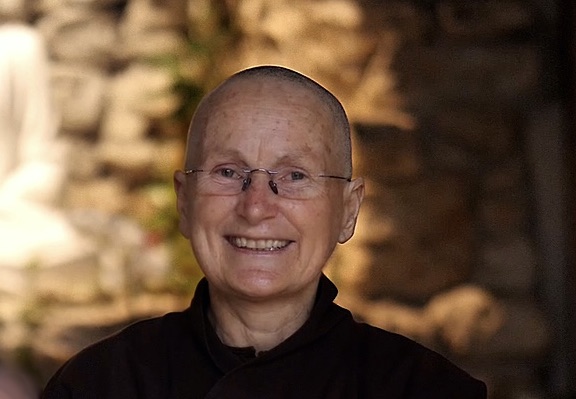 Adornment with Peach Blossom
Life Story
Sister Chân Đào Nghiêm ordained on the 26th of  October 2003 as a member of the "Simsapa" (Rosewood) family  in Plum Village, France. She received full bhikshuni ordination on December 18th 2006, and received the Lamp Transmission from Thầy to become a Dharma Teacher in  2011.
She was born in France in a Catholic family and worked for 10 years in an operating theatre as a surgeon's assistant. Following her aspiration to live a meaningful life dedicated to spiritual growth and service to humanity, at the age of 29 she chose to leave the comfort of her life in Paris and join a spiritual community. During the 21 years that she lived in this community (in Canada and in the USA) she married, had a daughter and trained hundreds of yoga practitioners to be yoga teachers.
Sister Chân Đào Nghiêm offers Dharma talks in English and French. She has been very involved in building the Francophone sanghas and supporting French teachers bring the practice of mindfulness into education. She is interested in interfaith dialogue, the field of health, Buddhist psychology and neuroscience.
Dharma Talks
Articles