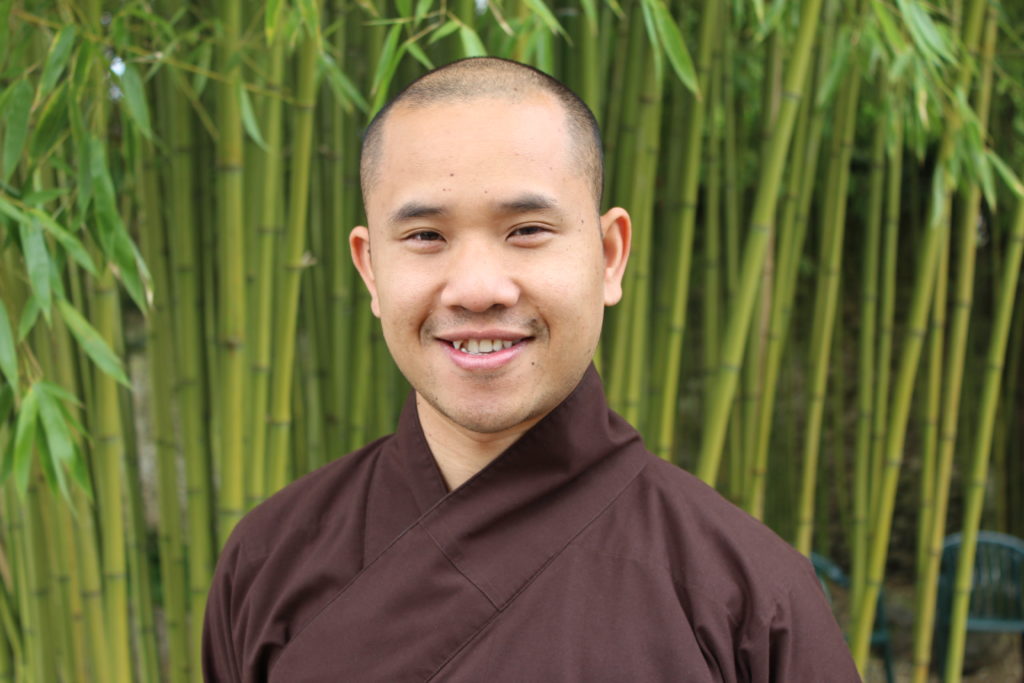 Dharma Friend
Life Story
Brother Chân Pháp Hữu was ordained as a novice monk on February 7th 2002 in the "Sugar Palm Tree" family. He received full bhikkhu ordination on December 18th 2006, and the Lamp Transmission as a Dharma Teacher in 2009. He became vice abbot in 2008 and is the abbot of Upper Hamlet since January 2011.
Br. Pháp Hũu first encountered Thầy and the community as a 9-year-old when he traveled from Canada to Plum Village France in 1996 with his father and sister. He was immediately drawn by the joyous brotherhood and the peaceful comportment of the monks. At the age of 12 he knew then that he wished to become a monk. After much persistence, his family allowed him to realize this wish at the age of 13.
True to his name, and despite the age difference, Br. Pháp Hũu became a dear friend to Thầy. He is often by Thầy's side as an attendant, sharing moments filled with love, laughter, tears, and inspiration.
As an abbot, Br. Pháp Hũu takes his time to connect with and understand his monastic and lay brothers. He is much appreciated as a skillful facilitator at Sangha gatherings. His favorite practices are walking meditation and organizing retreats in Plum Village. He is interested in team building, coaching, and mentoring. When playing, Br. Pháp Hũu loves basketball and music.
Dharma Talks
Articles