Interview with the "Gingko Tree" novices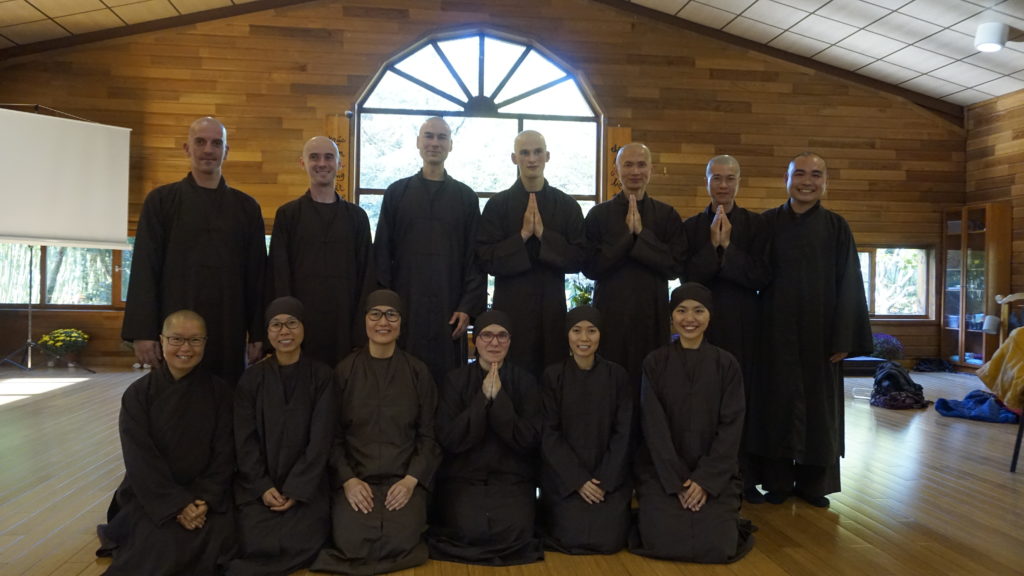 How do I live a life of meaning? What is true love? Is there a way out of suffering for myself, my family, my society? These questions lying at the depths of our hearts led a group of 15 young men and women to choose life as a Buddhist monk or nun – a simple, celibate life of practice and service.
With the blessings of their family, on October 17, eleven of them ordained as novices in Plum Village France, and four at Deer Park Monastery, US. They enter the monastic community as the "Gingko Tree" family. Let us hear from them.
In gratitude to my family
"Just seeing the two of you sitting here in front of me is the greatest gift", said Brother Troi Ruong Huong quietly to his parents at the post-ordination celebration.
25-years-old Br. Ruong Huong ("True Sky of Field of Fragrance") did not expect both his parents from Finland to come for his ordination. "They divorced when I was 10. The most difficult part was when they spoke negatively of each other, and told me that I reminded them of the other. It created conflicts in me. I felt that there's something very wrong about me.
I did not know what to expect when they came to Plum Village. It was so surprising for me to see them sitting, having a conversation. I just felt such a huge relief. It's like something that's been there for a long time finally shifting. We would go for walks together, have tea together. I know it's still very difficult for them. It would not have been possible without the atmosphere here. In one way, it was very strange. In another way, I felt more whole than ever. Like I'm part of a family again."
For Sister Trang Khuong Cu ("True Moon of Vital Dwelling"), it took a year and a half to convince her mother-in-law of her wish to become a nun. "I've been married for 36 years. Before becoming a nun, I had to ask my husband for a divorce. He is so kind. He accepted without posing any difficulties for me. We had a good relationship. Of course we had arguments, but we understood that we loved each other.
My mother-in-law thought perhaps she did not love me enough, or my husband was not good enough, or did not take good care of me. I told her that those were not the reasons. Slowly she could understand more [my deepest aspiration]. She even sent me gifts for the ordination.
Before I left Vietnam, she told me that if I ever feel unhappy, her door is always open to welcome me back. I am very grateful for her kindness."
During the ordination ceremony, when Sister Trang Thanh Doan ("True Moon of Clear Dignity") touched the earth in gratitude to parents, her heart swelled. "I am an only child. When my mum first heard of my decision to ordain, she cried a lot! Like many people, she thought that nuns usually live a very harsh life and she worried so much about my health. As I persisted, slowly, mum started to see that I was happier and more joyous through the practice. I used to be quite pessimistic. Applying Thay's teachings however, I experienced that when I truly return to the breath, even with just one breath, peace could return.
Growing up, I saw that my parents were not happy. I did not wish to continue that kind of life without peace and happiness. The first time I saw Thay, just seeing Thay's peaceful and free steps was enough to touch my heart. I gave rise to the wish to ordain there and then. I chose to ordain at Deer Park Monastery to be close to my mum. I chose to follow my ideal, and I know it brings her pain. I am very grateful for her sacrifice.
Sister Trang Khuong Y ("True Moon of Vital Mind") had to plan to come to Plum Village from New York in secret. When she first voiced her wish to ordain, her family and best friend told her, "You are crazy!" "They said that life as a monastic would be difficult. They told me I didn't even have to get married. I could just work and travel if that was my wish."
"It was only after six months at Plum Village that I contacted my eldest sister to tell her of my intention to ordain here. I told her not to tell the rest of the family in case 'the house burnt down'. But she found a way to tell them in a family meeting outside my home so that it would not distress my mum. In the end, three of my sisters came for the ordination.
When my sisters first arrived, they cried every day! They were afraid of losing me, of never having contact with me again. The community embraced them however, and they could experience the Plum Village practice. They discovered that my life here is not what they've imagined. They became more open, and could accept my decision, and are happy with the path I have chosen. Best of all, now, my mum is also happy with my decision."
The Gift of True Love
Brother Troi Ruong Phap's ("True Sky of Field of Dharma") former wife of 10 years came to the ordination from Portugal, bringing his mother and her new partner. "Alice is a real bodhisattva. She took care of me and pointed me in this direction. She helped me throughout my ups and downs. Alice brought me to see the doctors who gave me medication, and a book on mindfulness. That eventually led me to Thay.
I was living in Germany then, looking for success as a photographer, but never finding real connection. I always felt a kind of emptiness, even in the midst of a beautiful relationship. I had projected all my suffering onto the person I loved the most. Alice said to me, 'Go to Plum Village. Go find out what you want to do.' She booked the train, booked everything for me. When I later told her of my wish to become a monk, she gave me her heartfelt blessings.
I do not know how to define this kind of love. It must be pure love. Now, I want to be able to give her all that is good, to heal the past, and to transform myself. That aspiration is for her, and for all beings."
Like most young people in France, Sister Trang Khuong Am ("True Moon of Vitality of Sound") sought happiness in an intimate relationship. "The first moments were always magical. I had the feeling of being seen, loved, and understood. It is very natural as humans to want to be loved. But I was looking for these outside of myself. After a while, things slowly changed. It was always because I lacked the feeling of being safe, or understood, or I was lonely. I was expecting many things from the other.
I realized that it would be better if I could first take care of myself.
When I discovered Plum Village, I fell in love with the Dharma. I found the wisdom to guide me, and safety in it. I felt less lonely. I also had the feeling of falling in love with with the qualities of the sisters such as solidity and equanimity, that were difficult for me to find in myself. Identifying that, I started to cultivate these qualities in myself, they helped me to see the beauty within me, to see how I can love myself.
I now feel that I have an intimate relationship with something bigger than one person. Here, I have the space to develop more love and open my heart. As I understand myself, accept myself, and love myself more, I am able to give more to others. This is my deepest aspiration."
A celibate life is not necessarily easy. Brother Troi Chi Dao ("True Sky of Determined Path") from Texas said: "It's tough! As a novice, I still see sensual desire as something pleasurable. I'm only 27. I certainly still have sexual urges. There is still a part of me that looks for a companion to spend my life with. But the more I practice celibacy, the more I see that sexual desires can really control what we do and how we act. Right now, I am just taking refuge in the precepts.
I hit rock bottom around 2013. I lost my friends, felt alone, lost, confused, and angry. I experienced my own suffering, and the suffering of my family, our society, but did not have the tools to help. I moved to the countryside to find myself a little. I started to practice meditation and noticed the small differences in my life. That led me to look into Buddhism. When I found Magnolia Monastery and the five-year-program, it was awesome!
For me, to be a part of a sangha that practises nourishing wholesome seeds is one of the most worthwhile things we can do. A foundation of happiness is a foundation for everything else."
A gift to our family, our society
"Being a 'Zen Buddhist French monk' is to offer something to my society. Offer something to the children, but also for all of France, for the earth, for everyone", said 25-year-old Brother Troi Ruong Lanh ("True Sky of Field of Goodness).
"What brought me to Plum Village was to see the suffering of my society. At one time in my life, I felt very angry about society, especially about my culture. I could see how much suffering I had inherited from my society, from school, and from many conditions. I feel very grateful and lucky that Thay came to France and established Plum Village in France. I see many people coming from the other side of the planet to practise here. For me, I just had to go online, book, and take the train here.
I am learning to be real, to be myself, to offer love."
"When you ordain, you also ordain for your family, for all your ancestors." Hearing this days before the ordination, 27-year-old Sister Trang Khuong Gioi ("True Moon of Vital Precepts") could let go of her nervousness.
Before the ordination, I practiced touching the earth every day. I knew that during the ceremony, I only needed to breathe mindfully and surrender to the Three Jewels [the Buddha, the Dharma, the Sangha]. I could feel the strong energy of support from the Sangha. I was very relaxed and at peace. After ordaining, I feel that I don't need to call my family as much. Now I want to write letters to them to share my practice, and connect deeply with them."
Similarly, Sister Trang Khuong Dinh ("True Moon of Vital Concentration"), who is 40, questioned life as she saw the suffering of family and friends around her in Vietnam. "I saw that the underlying key is to understand our mind, and learn how to live with suffering and happiness, happily. In my last job, I worked with many young people who had all the conditions to be happy. Yet, they could not see that, and could not deal with the sufferings in their life. One even committed suicide.
The energy deep inside of me called me to make a change. This bodhicitta ["the mind of awakening"] keeps me alive. Looking back, I can see that whatever I experienced in life was a chapter that brought me to Plum Village. Here, we can live in a way that helps us see ourselves clearly. We no longer run around and chase after many things."
25-year-old Brother Troi Minh Dia ("True Sky of Radiant Earth") was deeply moved during the ordination when his mum shaved his hair.
"My mum's first response when I decided to become a monastic was – 'there's no way this guy's going to do it.' She threw me some tests and even gave me some advice on becoming a real estate agent." When Br. Minh Dia persisted, his mum was really sad in the beginning.
"Then she came to Deer Park [Monastery] and met the brothers & sisters. She saw my practice, my improvements, and the weaknesses that are still there. She saw that I'm heading in the right direction, that I'm happy with who I am, where I am, and whom I am with.
Her eyes were opened and now she sees it as a good opportunity for her to practice. Being on this path would mould me into a better person for her to lean on, and to practice with. Now she's coping with the sadness much better. My siblings were also supportive. My father was like – if it's the path that will bring you happiness, OK, go for it."
Brother Troi Minh Hoi ("True Sky of Radiant Understanding") said, "Through the practice, I've been able to transform much of what I struggled with the most, and ultimately be more sincere when I am with people. That has such an impact on my family.
My mum in particular became more interested in this path, and has been inspired to read many of Thay's books. She's joined a local sangha back in Ohio. My dad is a practising Catholic, but has opened up to read Thay's books and shown quite an interest in my way of life. It has helped them both to transform some strong habits.
I know that when my mum brings joy and gratitude to her sangha, it spreads there, and from there, I know it spreads out. That's how I feel here.
The small actions I take each day, involving the diet I choose, or doing my part in recycling and composting, or listening deeply to someone's suffering; are all concrete ways to protect the environment for all of us. On a Day of Mindfulness when we have hundreds of people here, just a smile can bring so much mutual peace."
"In the end, we are not closed off from the world", said Brother Troi Ruong Hieu ("True Sky of Field of Filial Piety"), who is Dutch and born to Vietnamese parents.
"Actually, the world is coming here. With the retreatants that come here, that is how I reach society. By practising and cultivating peace, compassion for myself, reaping the fruit of the practice, then I can offer these to others. By being stable, my family can see that I am happy and it might nourish them to be happy for me, too."
The way out of suffering
Brother Troi Ruong Nghia ("True Sky of Field of Gratitude"), who comes from Germany and is 37, started his search two years ago. "I realized that there is no contentment in all endeavours of life. Work, high status, education, relationship, no matter what you pick, even when it's something nice, it still does not satisfy. I saw the underlying suffering.
I travelled from one retreat to another, learning meditation. I encountered the Plum Village practice at the EIAB [European Institute of Applied Buddhism, Germany]. I cannot remember ever meeting so many happy people in one spot. The nuns were laughing a lot. I felt so uplifted.
I am often a little strict with myself. But you have to be happy in order to endure the tough things. At Plum Village, I learnt to enjoy happiness in whatever I do, to relax and let go of the stories, and come back to a child-like beginner's mind."
40-year-old Brother Troi Ruong Duc ("True Sky of Field of Virtue"), who is the eldest brother of the Gingko Tree family, thought that he could be happy working as a charity volunteer in Malaysia. "But I experienced many difficulties, especially among team members. The suffering started from criticisms toward each other, and eventually to a great deal of conflict.
I was helping people. But how come I still was not happy? I knew that the problem came from my mind, but I did not understand my mind.
I searched online to find a Buddhist community that have the practice that can solve my problem. The first website that popped up was Plum Village. I listened to Thay sharing the methods of practice. Coming to Plum Village, I have difficulties with English. Whenever someone talks to me, I feel ashamed and try to dodge. But I know this is not a good way. So I try to be brave and push myself to go to Dharma Sharing and Dharma talks.
I want to practice and be a monk so that I can understand the cause of my suffering. If I can relieve my suffering, understand myself more, maybe I have a chance to better understand others."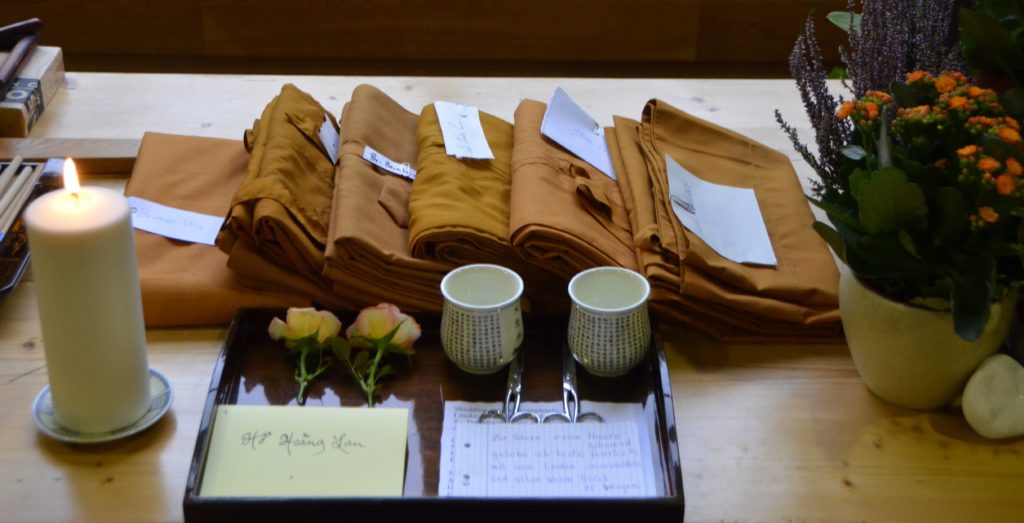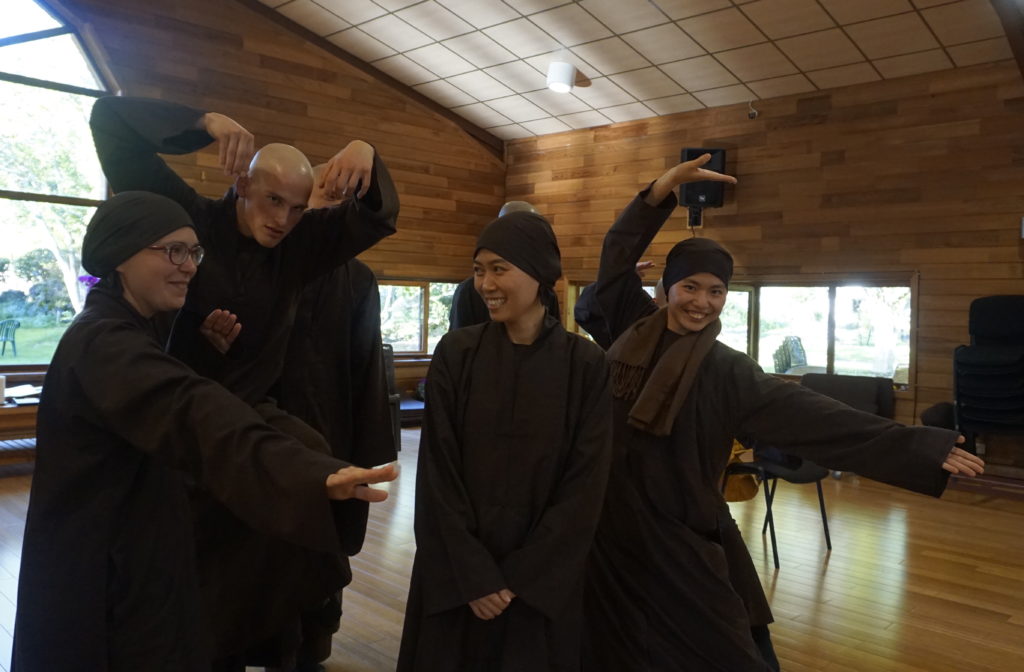 For more photos see this photo album.