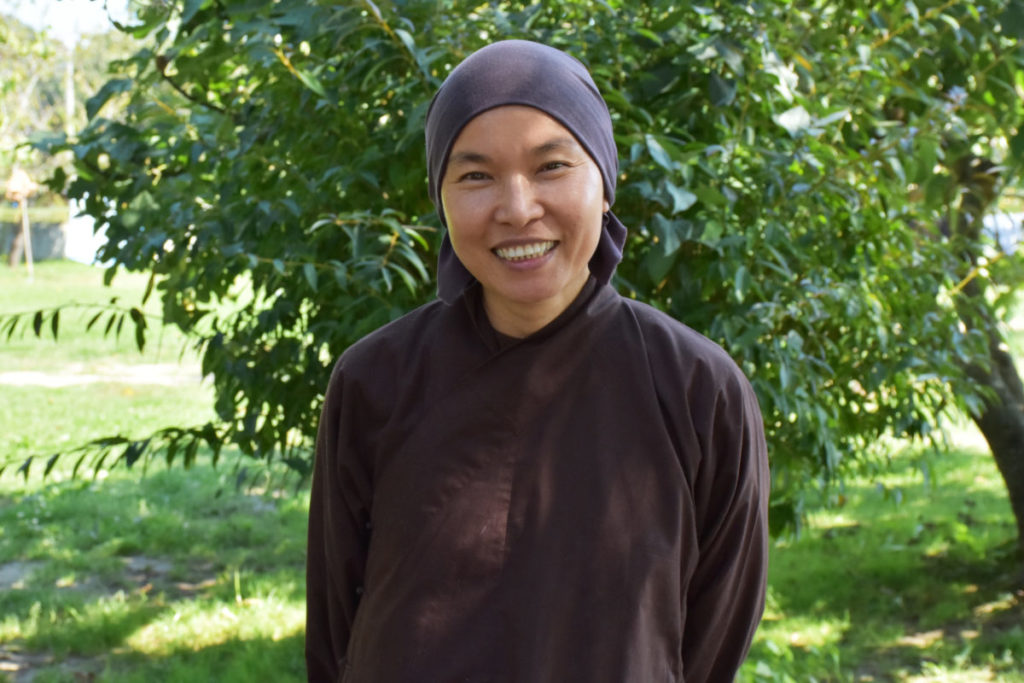 Adornment with Insight
Sister Tuệ Nghiêm ("Sr. Insight") ordained as a novice nun on December 11th 1993 at Plum Village France as a member of the "Fish" family. She received full bhikshuni ordination on December 2nd 1996, and the Lamp Transmission from Thầy to become a Dharma Teacher on February 19th, 1999. As a "baby" of the then small community, Sr. Tuệ Nghiêm was cherished by Thầy and the elders, but also firmly guided.
Sr. Tuệ Nghiêm was born in Vietnam, and grew up in California, USA. Influenced by her loving and spiritual mother, she joined the Vietnamese Youth Buddhist Society as a teen. She studied psychology at university, with a strong interest in the mind and the aspiration to alleviate the mental pain she saw around her. The same interest and aspiration then brought her to Plum Village France, where her elder brother (Brother Pháp Đang, "Br. Dharma Lamp") had already ordained under Thầy. After the sojourn at Plum Village, she returned to California. The contrast between the malaise of a fast-paced living and the simple, fulfilling life at Plum Village helped set her life direction.
Sr. Tuệ Nghiêm balances her time in administrative roles with growing organic vegetables on the New Hamlet "Happy Farm". She firmly believes in taking care of the body to sustain the practice, thus shares her experience in holistic medicine, yoga, Qi Gong, and nutrition with the community. Her favourite practices are breathing, walking, and reflecting on the sutras. She also enjoys learning neuroscience, Chinese, and loves to knit socks, swing in a hammock, listen to Mozart, and make samosas for the community.
Sister Tuệ Nghiêm regularly leads retreats in Europe, Asia, and North America. While at home in New Hamlet, she finds many ways to be with her younger sisters: hiking, mentoring, teaching the precepts, Buddhist psychology, and Vietnamese/English classes, driving and car maintenance.
Dharma Talks
Articles