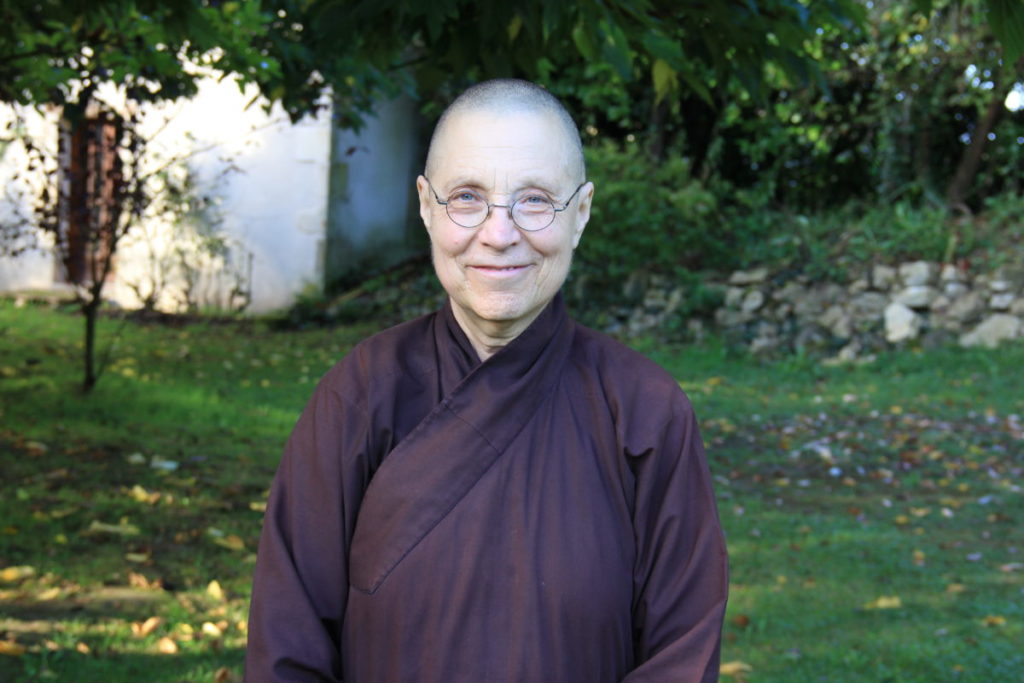 Adornment with True Loving Kindness
Sister Chân Từ Nghiêm (also known as "Sr. Eleni" to lay friends) was ordained by Thầy as a novice nun on January 26th 1991 in the Red Candle Meditation Hall of Lower Hamlet, Plum Village, France. She received full ordination as a bhikshuni on August 5th 1994, and the transmission of the lamp from Thầy to become a Dharma Teacher on December 3rd 1996. She is the 11th disciple of Thầy.
Before becoming a nun, Sr. Chân Từ Nghiêm was a nurse. The first time she saw Thầy walk, she was moved by his tranquillity. It reminded her of the sail boats she had seen gliding into the harbour when she was a student in Hawaii. She knew then that she had found a practice of walking meditation, and a teacher who truly embodied the practices he taught. She is grateful for Thay's teachings on Buddhist psychology, and living in the sangha, which have been essential elements for her transformation and growth.
Having grown up in Greenwich Village, Manhattan, NY she loves people, animals, plants and minerals, i.e. the Mother Earth, especially the beauty of nature surrounding us, and the international sangha of monastic and lay retreatants at Plum Village. She also enjoys walking in nature, poetry, and listening to Mozart Piano Concertos played by Alicia de Larrocha. To honour her Greek ancestors, Sr. Từ Nghiêm makes Greek Salad for the community and our neighbours on the Open House Day. She hopes Thầy's practices of mindfulness can be shared in countries of her ancestors (the Ukraine and Greece), and in other countries around the world.
Sr. Chân Từ Nghiêm offers Dharma Talks in English and French. Residing at the New Hamlet, she gently guides her younger sisters and the lay practitioners, in practices she has learned from Thầy, and from her experience of living and practicing in the sangha. Her kind presence and compassionate listening are invaluable to the community, both monastic and lay.
Dharma Talks