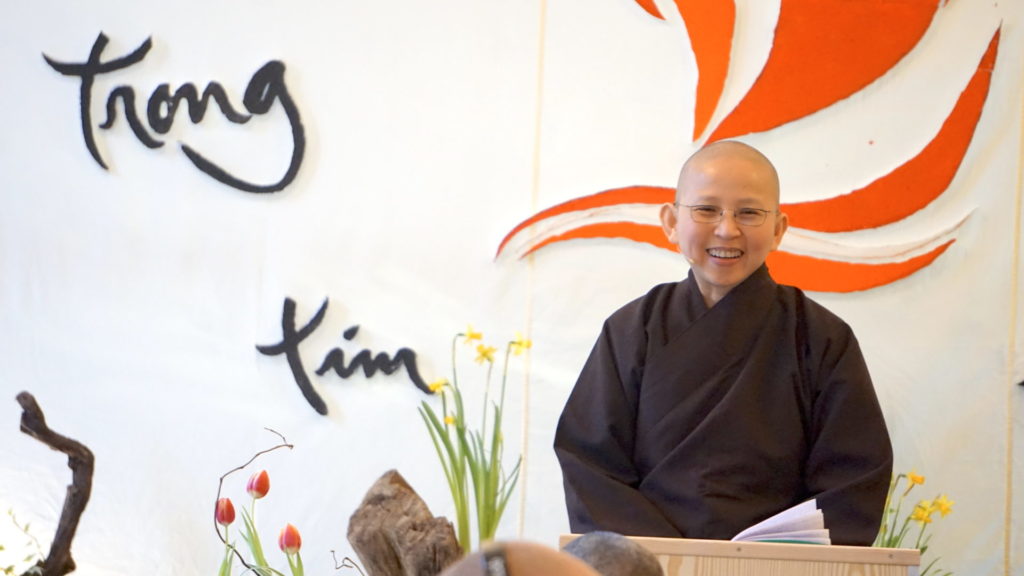 Life Story
Sister Chân Thuận Nghiêm was ordained as a novice nun on May 18th 2000 in the "Plumeria" family. She received full ordination as a bhikshuni in January 2003, and the Lamp Transmission from Thầy, to become a Dharma Teacher, in January 2009.  Originally from Vietnam, she and her family immigrated to America in 1990, living in the eastern state of Pennsylvania. It is from Thầy' s book 'Old Path white cloud' that she aspired to ordain despite the fact that she has never learned, practiced mindfulness or attended any Mindfulness retreat before.
She is an active member of our international community and has lived in Lower Hamlet, France; Green Mountain Dharma Center, Vermont; Deer Park Monastery, California; Asia Institute of Applied Buddhism, Hongkong and currently in New Hamlet, France.
She has deep love for nature, holistic healing, the Earth and Oceans. She likes to build lay sangha as well as monastic sangha wherever she resides. She invests her time and energy into training young monastics. She likes to be surrounded by the practitioners who are young and not so young, who aspire to walk on this path of Mindfulness. She likes hiking and hammock meditation. 
Dharma Talks