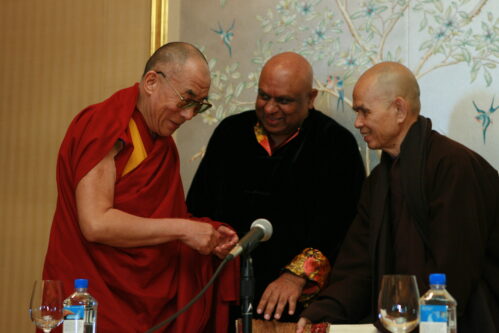 When the Plum Village delegation led by Thich Nhat Hanh landed in Rome in March 2008 for fourteen days of public talks, retreats, and other events, the demonstration by 600 Tibetan monks on the occasion of the forty-ninth year of the movement to oppose the yoke of Chinese rule was in its eighth day.
The capital of Tibet, Lhasa, had been cut off from all outside contact by Chinese tanks, armored cars, and military personnel. The repression by the Chinese forces was bloody; the corpses of hundreds of victims, most of whom were Tibetan youths and Buddhists, lay in the streets.
During his stay in Rome Thich Nhat Hanh was interviewed on Italian television about the situation in Tibet.
Thay made two principal proposals:
1. The European parliament should call an extraordinary meeting on the situation in Tibet and send a multinational delegation to Lhasa and other parts of Tibet that have witnessed suffering due to the occupation. The delegation should listen deeply to the suffering of both sides and make a report to the countries of Europe and North America.
2. The European and North American countries should intervene to make it possible for His Holiness the Dalai Lama to visit Tibet and give teachings on the Buddhadharma and organize retreats — just as Thich Nhat Hanh was able to go back to Vietnam to teach the
Dharma. If Thich Nhat Hanh was allowed to return to Vietnam to teach, then China should allow H.H. the Dalai Lama to return to Tibet to teach. The people of Tibet and the Chinese people need to be in touch with the wonderful presence of H.H. Even if H.H. were only to teach the Dharma and encourage the preservation of Tibetan culture — and say nothing about politics — it would bring enormous happiness to the people of his homeland. If pressure from Western countries enabled Thich Nhat Hanh to go back to Vietnam, then similar pressure could enable the Dalai Lama to go back to Tibet.
During the interview, Thich Nhat Hanh also suggested that the government of Vietnam should allow the organizers of the International Wesak Celebration — due to take place in Hanoi in May 2008 — to invite H.H. the Dalai Lama to attend. This would bring a great deal of happiness to Vietnamese Buddhists and would also show that Vietnam takes a very different stand toward Tibet than does China. Thich Nhat Hanh also told Tibetan Buddhists not to give up hope because Vietnam was under Chinese rule for nearly 1000 years, but was finally able to reclaim her independence.
During a press conference on 27 March in Naples, Thich Nhat Hanh repeated what he had said earlier on Italian television; namely that he was ready to go to Tibet with H.H. the Dalai Lama to support H.H. and teach the Dharma to Tibetan Buddhists with His Holiness if he was granted a visa to do so.
---
Originally published in Phu Sa Magazine. Translated from Vietnamese by Sister Annabel, True Virtue, and printed in The Mindfulness Bell No.48, Summer 2008.